John 5:24

"Home is the Sailor, Home From The Sea.... And The Hunter, Home From The Hill"

Permission Granted To Come Aboard...
..And Welcome To The Pirate's Lair!
a Division of DataCity, Inc.
Click Here and Return to The Pirate's Lair Home Page www.thepirateslair.com
OR
Click Here and Return to WWII Liberty Ship Hatch Covers and Nautical Tables

US Navy WWII Liberty Ship Wooden Hatch Covers - All Liberty Ship Hatch Covers are similar, yet each is unique and distinct in its own way. Like most sailors, these hatch covers have spent years bouncing around the 7 Seas and have all been weathered differently!
Ever wonder where the term "batten down the hatches" came from? Or wondered what one of these "hatches" looked like? Well, here you will see and possibly have for your very own the last true wooden hatch covers made specifically for the World War II Liberty Ships. These wooden hatch covers covered the cargo holds of the war materiel being sent both to Europe and the Far East and as fighting cargo ships they were instrumental in supplying our troops and were found in all of the naval invasions and battles in both theaters of the war.

To "batten down the hatches", there was first a long sheet of thick waterproof canvas stretched tight across the open cargo hold. Then these wooden hatch covers were placed tightly side by side across top of the canvas. Lastly a "batten" which is a long heavy pole made of wood or steel, was then laid across the top of the hatch covers. Each end of the batten was then tightly secured to prevent it from moving off of the hatch covers.

This was the only thing preventing the heavy seas from gaining entry into the cargo holds and sinking the Liberty Ship!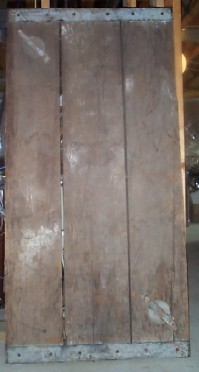 Description #41 - Special - RARE! This one is just like when it came off the ship and it has a stamped US Patent # 1864232 stamped right into the metal band! Pat No practically ready to ship! It is 59.5 x 26.5 x 2.5 Will take approximately 1 week for prep and to ship.SOLD! $1095

Description #50 - Standard - Good solid hatch cover with a medium brown stain/patina. Has the large industrial flat head counter-sunk screws instead of rivets securing the metal bands. Both the front and back have been sanded and stained. Will require some further sanding, will be ready to ship in approximately 2 weeks.SOLD!

Description #52 - Standard - Good solid hatch with the corner end of one metal bands in the past having been dinged by something heavy but does not detract. Some of the original gray-green paint is still on the rear side. Take 2 weeks for prep and ship. SOLD!

Description #53 - Standard - Solid hatch with a dark reddish stain with lots of character marks on it. Has 4 holes drilled through the hatch as it was once used as a wooden buffer/barrier on the side of a floating dock! The 4 holes will be filled in and sanded during final prep work. The width on this hatch is 26 inches. Will take 2 weeks to prep and ship.SOLD!

Description #54 - Standard - Solid hatch with a light brown/yellowish stain. Has BRASS handles. Has been bounced around with lots of character marks. Still shows some original gray/green paint on the rear. Will take approx. 2 weeks for prep and shipSOLD!
In general, all of these hatches are approximately 59.5" long x 29" wide x 2.5" thick, weighing 90lbs and consists of 3 rough cut pine boards. Though rare sometimes only 2 pine boards were used, and sometimes the dimensions varied such as some hatch covers measured 26.5" wide.

Each hatch cover has 2 thick metal bands wrapped around the ends of each hatch and secured with rivets. If you ever wondered what "Rosie the Riveter" did this is a perfect example of WWII riveting. Sometimes instead of rivets large counter-sunk flat-head industrial wood screws were used. These hatch covers actually had a patent associated with them which is recorded at the US Patent and Trademark Office. Though rare, the patent no. is sometimes foundon these securing metal bands.

Each Liberty Ship Hatch Cover also has a securing metal rod located in the center of the hatch going through all three pine boards and rivted. This was to stabilize and help keep the heavy boards from warping. The boards themselves were separated from each other by a .25 to .50" wide gap which allowed for expansion swelling when wet due to salt water.

Each hatch cover also has a 4.5" x 2.75" handle scoop cut out of each opposite end with a 7.5" x 1" metal handle secured across the top of the scoop with rivets. These grips allowed the sailors and deck hands to either manually lift them off or onto the ship's hatches, or in most cases they used hooks from a crane to do the lifting.

All of the metal used on Liberty Ship Hatch Covers was some sort of zinc-based or galvanized steel since you will never see them really getting rusted at all. We have seen brass used for the handles, but this is exceptionally rare and quite handsome after restoration as the golden brass really sets off the weather pine.
Ordering Procedures:

First, select which liberty ship hatch cover you desire. Each is unique and different, all have alot of character! Take notice of the color of the stain, texture of the wood, and condition of the hatch itself.

Second, if it is just a hatch cover ($895) you want and you already have legs or a trestle to sit it on then just email sales@thepirateslair.com or call 540-659-6210 to obtain shipping costs.

Third, if you do not have anything for the hatch cover to sit on, you may want The Pirate's Lair to provide you with one of our nautical-looking coffee table trestles ($450) or desk/kitchen table trestles ($575). (We will match stain the trestle as close as possible, re-stain the hatch cover if possible, apply a beautiful restorative finish with Spar Varnish as a base which dries into a hard glossy coat. We will also pre-drill holes into the hatch cover to match the trestle and provide 4 lag-bolts to secure the hatch cover)

Fourth, we will professionally package and ship the hatch cover and trestle in 2 or more boxes with simple easy to use assembly instructions.

Delivery Time: Allow for 1 week to prep a hatch cover by itself. Allow for approximately 2 to 3 weeks to construct, stain, and prep both a hatch cover and a trestle.


Available WWII US Navy Liberty Ship Hatch Covers
Each is Unique and Different Having It's Own Character from the Weathering Seas!
Hatch Cover Only


Click Photo!

Sanded, Pre-stained and Spar Varnished! Various Hatch Covers To Choose From with 1 fixed price all Ready to Go. We always have 3 or 4 to choose from! Finished or Unfinished exactly as it was taken from the ship!

$895.
SOLD

Call To Order
540-659-6209


Below are links to other Antique Nautical and Naval Artifacts which you may be interested in.

Click HERE to Review how this and other of our Pirate Chests, Treasure Chests, and Antique Chests were Restored, our Antique Restoration Process, and How To Restore Antique Nautical Furniture!


OPTIONAL - Trunk Wood Engraving Examples and Prices
Custom Designed, Handcrafted, and Hand Lettered in Caligraphy on your Antique Chest


Click Here To Review Sample Engravings

Personalize Your 100+ Year Old Antique Trunk in Perpetuity!

Antique Trunks as a Shadow Box and Storage Chest!
Customer Photographic Examples of our Antique Trunks Being used as a Military or Naval Retirement Shadow Box and Storage Chest!!


Click Here for Sample Shadow Box Photographs From Customers

Why just get a shadow box or a newly made trunk with no history! One of our 100+ Year Old Nautical Antique Trunks can be used for both a Shadow Box and Storage Chest for your Uniforms, Photograph Albums, and Memorabilia!
Rare 1880 to Early 1890's Photograph of Antique Trunk Factory and Workers Using Albumen Silver Print Method, Mounted to a Period Board Which Dates The Photo
Note the Flatop and Two Monitor or Waterfall Trunks, Each Being Individually Unique at the Very Time of Production.


Click Photo For Larger View and More Historical Information!

The Pirate's Lair Exclusive!
We all romanticize about the mystique of these antique trunks. The possible owners and travels that each steamer trunk has taken, along with the high level of detailed craftsmanship in the original production of each and every steamer trunk with that individualized character giving both intrinsic and non-intrinsic value.

However the truth of the matter is that the majority of these trunks were made towards the middle to end of the 19th century just at the dawning of the industrial revolution here in America when there were no child labor laws or protections. This rare photo clearly illustrates at least 3 generations of owners and workers, ages appearing to range from pre-teen/adolescent, teens/early adult, through middle to old age!
It was a common practice that loyal and productive craftsmen would be allowed to bring their children to work with them to learn a craft, so many of the children in this photograph were more than likely sons of the men shown.

Note the adolescent factory workers on top row! Note that there are no women in the photo! This is due to the fact that at that time "proper" women did not work outside of the home, certainly not in a factory. Everybody appears to look pretty stern, having on their arms crossed and "work" faces put on.
Copy of Photo On Request With Every Trunk Purchase
The Pirate's Lair
Division of DataCity, Inc.
78 Canterbury Drive
Stafford, Virginia 22554
Phone: 540-659-6209
Click Here and Return to The Pirate's Lair Home Page www.thepirateslair.com
"Service Disabled Veteran Owned Small Business"
Or
Email the-pirate@thepirateslair.com



Or Click HERE to return to The Pirate's Lair Home Page and Gangplank!


Copyright(c) 2008 All Rights Reserved - Unauthorized downloading, copying or use of any html code, text or images found on this or on any other pages within the www.pirateslair.com website will be prosecuted.

Music Credits: Donald Where's Your Trousers/Drunken Sailor medley by The Bards