John 5:24

"Home is the Sailor, Home From The Sea.... And The Hunter, Home From The Hill"

Permission Granted To Come Aboard...
..And Welcome To The Pirate's Lair!
a Division of DataCity, Inc.
Click Here and Return to The Pirate's Lair Home Page www.thepirateslair.com
or
Click Here and Return to Antique Naval China and Dinnerware

Antique US Navy Porcelain Fine China Dinnerware, Silverplate Flatware, and Personal Hygieneware using Stylized "USN" Topmark Monogram 1860s-1880s Civil War Era Used in the Captains Cabin Washroom - Water Tumblers, Wash Basins, Soap Dishes, Slop Jars.
Above shows a waste water slop jar to the left and a large 8" high water cup or tumbler and a square soap dish to the right. All three having the stylized "USN" monogram popular during the Civil War 1860s to 1880s. These porcelain items made specifically for general use in the washroom were called by the industry either hygieneware or sanitaryware.
Photo to the left shows the inside of the square soap dish.
Above photo to the right shows the bottoms of both the water tumbler and square soap dish - note that niether one show any manufacturers backstamps which unfortunately was typical. Only the soap dish has any bottom marks and that is a number "139" which perhaps is a pattern or style number, it does not appear to be a date code. The waste water slop jars do not have any backstamps as well.
To the left shows another different style of soap dish and small water tumbler both of which were held in a wire chrome holder that was attached to the wall.

It was the custom of the US Navy to design its own topmark insignias as well as the pattern type and size of china, and then to competitively contract out to various china manufacturers which could meet the technical requirements.

And it was in this manner the Navy was able to procure and meet its standard needs over long periods of time in a seamless fashion.
The above large 8" high water cup or tumbler is incredibly important and rare insofar as determining when the stylized "USN" topmark monogram was used and who were the manufacturers which produced it.

As seen in the photograph this particular large water cup with the stylized "USN" insignia is actually backstamped with a manufacturer: "J.McD.&S Boston" which was a famous American fine china and porcelain dealer and distributor named "Jones, McDuffie & Stratton" located out of Boston.

This company was established in 1871 and while it did not produce porcelain or chinaware itself, it did significant design and collaboration work with (and largest distributor for) Wedgewood China of England for over 75 years. The porcelain used on this water cup is quite fine, and possibly was made by Wedgewood. However J.McD.&S also worked with other china and porcelain manufacturers besides Wedgewood both here in the United States and abroad as well.

But the quality, pattern, and style of this water cup made for senior officers of the US Navy bears a distinct resemblance to that which was produced by Wedgewood in the mid to late 19th century. Additionally, Jones, McDuffie, & Stratton always ensured that their mark (J. McD. & S.) was shown as the backstamp - a sign of recognized quality. So since much of the sanitaryware found to date does not have their backstamp it stands to reason that many of these items were produced elsewhere.

In general, while the US Navy had multiple vendors and switched them frequently it was loathe to make frequent changes either in its customs or equipment, and this extended to standardizing on its insignias as well. Traditionally the US Navy kept the same topmarks found on its equipment and china for decades at a time.
Above is a very rare and very large 15" Wash Basin utilizing the stylized USN monogram which is an exact match to the topmarks found on the above waste water slop jars, soap dishes and water tumblers.

Note the backstamp "J.McD.&S Co. Boston" again indicating production by the distributor Jones, McDuffie & Stratton. This particular backstamp is just slightly different than the one found on the bottom of the water tumbler above and perhaps it has to do with the amount of space available.
The above two photos show a large turkey server or turkey platter with the stylized USN insignia. We have personally seen fine china dinner and salad plates and soup bowls with the exact same stylized fancy USN insignia topmark on them so we know that an entire standardized dinnerware and tableware set was produced. The date of use for these items we believe are Civil War era and used ca 1860's to at least the very early 1890's.
The above two photos show a medium size Serving or Chafing Dish with the exact same stylized USN as the turkey platter (and similar to the water tumblers, soap dishes, and slop jar) but fortunately it has been bottom marked "James M. Shaw & Co New York 1892".

Similar to J.McD&S Co, the James Shaw Company was very well known and active china distributor in providing fine china dinnerware to the US Navy.
It certainly appears that the US Navy used this stylized "USN" monogram for a very long time, and used it on various types of items and not limited to either china dinnerware, hygieneware or sanitaryware. But as can be seen also on silverware as well as shipboard equipment as well.

The above photo's show a small 6" Wilcox Silver Plate Co. silverplated demitasse teaspoon and a pick both with the same matching stylized USN monogram very similar in style and design to the water tumblers and soap dishes. Having this topmark on the silverware indicates that there is also a matching set of fine china dinnerware as well utilizing the same stylized "USN" monogram insignia.

Furthermore, since the US Navy is very slow and somewhat deliberate in making changes it can also be ascertained that this stylized insignia lasted for quite a number of years with evolutionary design changes.

Click Here For Further Review of US Navy Silver Plated Flatware with the Stylized USN topmark.
The above silverplated decanter by Reed and Barton was manufactured and used ca 1880s-1900s in the Senior Officers Mess - Most Likely for a Commodore but Certainly Could Have been Used in an Admirals Mess

Click Here For Further Review of this 19th Century US Navy Silver Plated Decanter with Price and Availability
The above two photo's show a Civil War stitched leather cork-filled bumper with the stylized initials USN similar to the insiginia's found on the water tumbler, turkey bowl server and spoon. This again proves that the stylized USN monogram was used extensively as an official US Navy insignia at least from the 1860's and through to the late 1890's as can be verified by the above Wilcox spoon and small china bowl.

Furthermore, since the US Navy is very slow and somewhat deliberate in making changes it can also be surmised that this stylized insignia monogram lasted for quite a number of years with evolutionary design changes.

This further indicates that this stylized USN pattern was used extensively as an official US Navy insignia dating as early as the Civil War, sometime from the 1860's through to at least the 1890's.
Above is a Civil War era straight razor marked on the ricasso "J H Walker, US Navy Razor, New York", it is believed that JH Walker was the importer or distributor of this razor since as indicated on the box it was made by "B.J. EYRE & Co. Late W. GREAVES & SONS SHEFFIELD 6 1/2".

Additionally right on the blade itself it is marked in large lettering "US Navy Razor". This certainly is the type of razor used along with the hygieneware found on this page.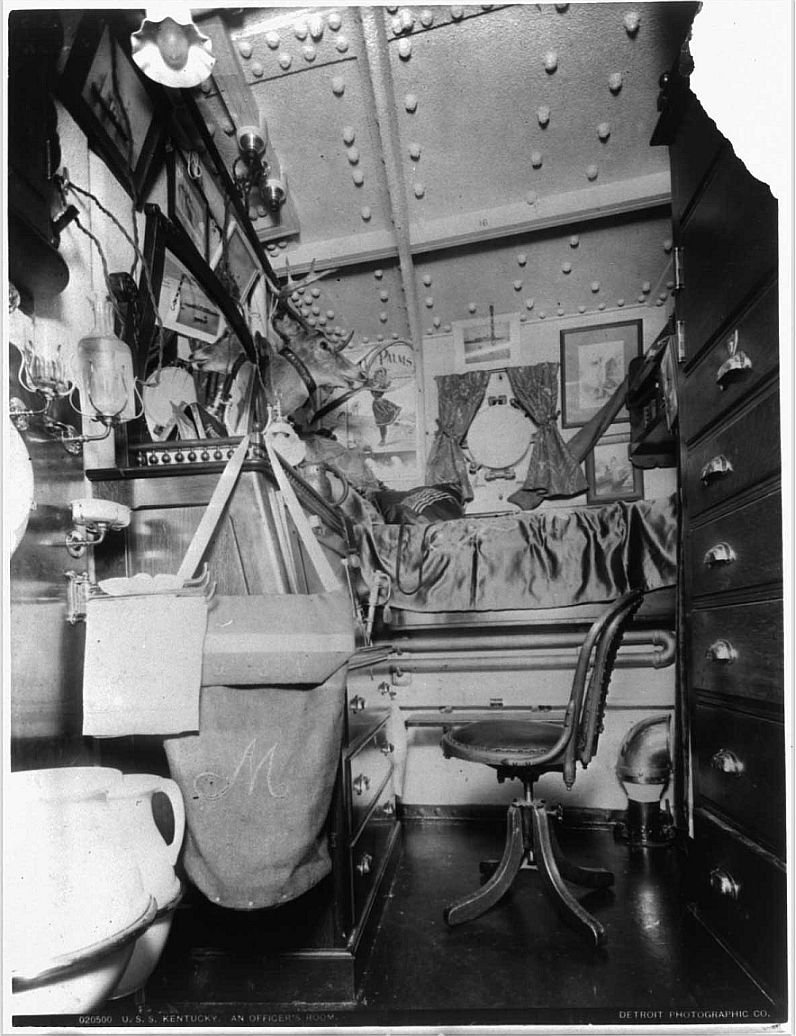 The smaller photo is detailing the Captains Cabin and Washroom found aboard the USS Texas ca 1890s. Note the sink, waste water slop jar sitting in its steel holding ring, and the amphora-like clean water pitcher also sitting in its circular steel floor mounted swivel for ease of use and to prevent spillage during high seas and rough weather conditions.

The exact same matching pieces are shown on this page in white porcelain soap dishes, sinks, and water wash basins which were used aboard ship in the 1860's and early 1900's.

The larger photo shows an officers stateroom aboard the USS Kentucky ca-1898 where the hygieneware of porcelain water pitcher, slop bucket, and soap dishes are clearly shown to the left in the photo. Note the steel circular holding rings for the jars and wall bracket used for the soap dish.

Again, very similar arrangement of slop jars, sinks, soap dishes as found in the period photograph of the Captains Cabin aboard the USS Texas. This establishes a standardization of sorts on how the bathrooms or "heads" of staterooms were outfitted and organzied.

(Below you will find a photograph of the restored stateroom of the Ironclad USS Monitor in which a washbasin is shown just like the one here on the USS Texas and what The Pirate's Lair has in its collection.)

Additionally both the water basin and pitcher appear to be placed in round circular steel rings attached to the wall while the pitcher is placed in a steel ring which is floor mounted and allows the pitcher to be tilted to dispense the water.





Below are links to other Antique Nautical and Naval Artifacts which you may be interested in.

Click HERE for US Navy "Fouled Anchor China" made for the Wardroom Officers Mess ca 1940-1960 - Affordable For Everyday Use!

Click HERE for US Navy Silverplated Silverware in the Kings Design with "Fouled Anchor" made for the Wardroom Officers Mess ca 1905-1960 - Matching silverware to the navy anchor china!

Click HERE to Review how this and other of our Pirate Chests, Treasure Chests, and Antique Chests were Restored, our Antique Restoration Process, and How To Restore Antique Nautical Furniture!


OPTIONAL - Trunk Wood Engraving Examples and Prices
Custom Designed, Handcrafted, and Hand Lettered in Caligraphy on your Antique Chest


Click Here To Review Sample Engravings

Personalize Your 100+ Year Old Antique Trunk in Perpetuity!

Antique Trunks as a Shadow Box and Storage Chest!
Customer Photographic Examples of our Antique Trunks Being used as a Military or Naval Retirement Shadow Box and Storage Chest!!


Click Here for Sample Shadow Box Photographs From Customers

Why just get a shadow box or a newly made trunk with no history! One of our 100+ Year Old Nautical Antique Trunks can be used for both a Shadow Box and Storage Chest for your Uniforms, Photograph Albums, and Memorabilia!
The Pirate's Lair
Division of DataCity, Inc.
78 Canterbury Drive
Stafford, Virginia 22554
Phone: 540-659-6209
Click Here and Return to The Pirate's Lair Home Page www.thepirateslair.com
"Service Disabled Veteran Owned Small Business"
Or
Email the-pirate@thepirateslair.com



Or Click HERE to return to The Pirate's Lair Home Page and Gangplank!


Copyright(c) 2008 All Rights Reserved - Unauthorized downloading, copying or use of any html code, text or images found on this or on any other pages within the www.pirateslair.com website will be prosecuted.

Music Credits: Donald Where's Your Trousers/Drunken Sailor medley by The Bards