John 5:24

"Home is the Sailor, Home From The Sea.... And The Hunter, Home From The Hill"

Permission Granted To Come Aboard...
..And Welcome To The Pirate's Lair!
a Division of DataCity, Inc.
Click Here and Return to The Pirate's Lair Home Page www.thepirateslair.com
or
Click Here and Return to Antique Naval China and Dinnerware

Antique Hygieneware Sanitaryware US Navy Porcelain Sink with Brass Drain Fittings,marked USN used Aboard a Ship's Officers Berth or Washroom (or Head) from the 1860's thru Early 1900's - The Spanish American War and Great White Fleet era. These sinks were used when "in door" plumbing was first installed aboard US Navy warships!

Call To Order - 540 659 6209




US NAVY SINK WITH BRASS DRAIN FITTINGS # 1 - Not Available.




US NAVY SINK WITH BRASS DRAIN FITTINGS # 2 - for sale SOLD!




BELOW ARE ADDITIONAL US NAVY HYGIENEWARE ITEMS AND 19TH CENTURY PERIOD PHOTOGRAPHS!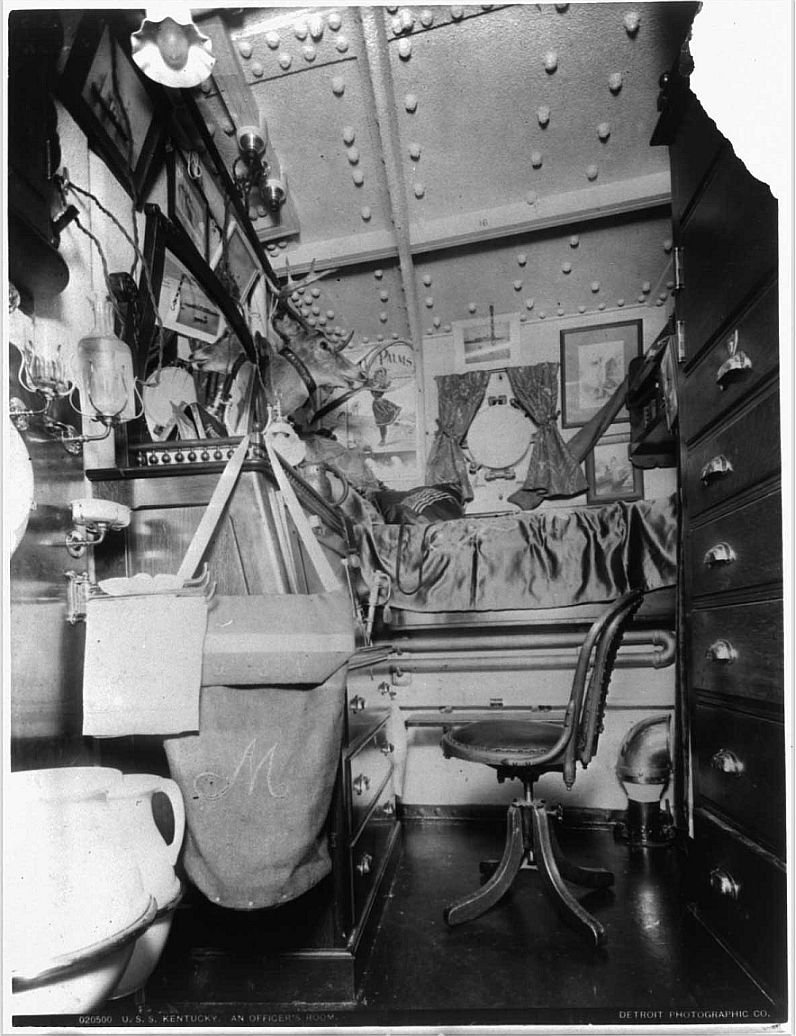 Note the the sink in its securing ring shown to the left in the bottom photo of the Captains Stateroom aboard the USS Texas ca 1890s.

Above photos illustrate an early 1860s-1900s US Navy sink with bottom drain attachment indicating the earliest use of shipboard water. These sinks and clean running water under pressure only became practical after the Navy began introducing steam engines as the main propulsion system aboard its ships. At that time a more robust system of disposing dirty or used water became necessary as keeping this water in slop jars for later disposal over the rail became impractical.

At The Pirates Lair we have both the later used sinks with plumbing fixtures as well as the earlier basins which required clean water amphora like pitchers to draw the water from as well as the larger and rounded slop jars.

The basins and sinks looked indistinguishable except for the plumbing fixtures on the bottom of the sinks. Both the basins and the sinks were all the same size and all had the same insignia, either a plain U.S.N mongram or the more stylist USN with the letters in a florish and superimposed on each other. It is presumed that the more stylistic USN insignia were in earlier use.

Additionally, both sink and basin each had a thick roll or lip around the top edge so as to allow it to fit into a circular steel holder. This allowed for the ship to use as much existing onboard infrastructure during the transition from non-water to onboard water systems.

All of the sinks we have seen each have old cracks around where the brass plumbing drain fixtures fit onto the sink. These cracks did not leak on any of the sinks we have tested, and they have all appeared to be long-time stress cracks created when the plumbing drain was tightly screwed onto the sink. An operational or implementation defect for sure.

More detailed photos and review of Naval Sanitaryware or Hygieneware can be found by Clicking Here - US Navy Porcelain Hygieneware or Sanitaryware w/ USN Monogram.
VERY RARE! 1860's to early 1900's - US Navy Porcelain Sink w/ USN Monogram, Sink #1 or Sink #2
Used Aboard Ship in Officers Staterooms and Berthing areas - SEE PERIOD PHOTOs. While this particular sink is unmarked mose were produced by either Standard, Trenton Potteries Company, or American Standard which were all early manufacturers of personal hygiene items.

CLICK PHOTO! US Navy Porcelain Hygieneware Sink
Very Condition with the initials USN clearly visible below the glaze. There is a stress crack from where the plumbing fixtures were attached to the opening of the sink. The sink is the most rarest of the items found in the US Navy set of Personal Hygieneware or Sanitaryware
$1495. Sink Only SOLD!

$195. For Ringed Wall Bracket
Call To Order
540 659 6209


U.S. Navy Officer and Enlisted Soap Dishes were used as personal hygiene items in a ship's head or washroom. These soap dishes were clipped into chrome plated or nickel metal wall mount brackets for easy removal and cleaning. These were used from the mid to late 19th century and possibly even up to WWI; certainly during the 1880's thru 1910 during the Spanish American War and Great White Fleet era.



Below are links to other Antique Nautical and Naval Artifacts which you may be interested in.

Click HERE for US Navy "Fouled Anchor China" made for the Wardroom Officers Mess ca 1940-1960 - Affordable For Everyday Use!

Click HERE for US Navy Silverplated Silverware in the Kings Design with "Fouled Anchor" made for the Wardroom Officers Mess ca 1905-1960 - Matching silverware to the navy anchor china!

Click HERE to Review how this and other of our Pirate Chests, Treasure Chests, and Antique Chests were Restored, our Antique Restoration Process, and How To Restore Antique Nautical Furniture!


OPTIONAL - Trunk Wood Engraving Examples and Prices
Custom Designed, Handcrafted, and Hand Lettered in Caligraphy on your Antique Chest


Click Here To Review Sample Engravings

Personalize Your 100+ Year Old Antique Trunk in Perpetuity!

Antique Trunks as a Shadow Box and Storage Chest!
Customer Photographic Examples of our Antique Trunks Being used as a Military or Naval Retirement Shadow Box and Storage Chest!!


Click Here for Sample Shadow Box Photographs From Customers

Why just get a shadow box or a newly made trunk with no history! One of our 100+ Year Old Nautical Antique Trunks can be used for both a Shadow Box and Storage Chest for your Uniforms, Photograph Albums, and Memorabilia!
The Pirate's Lair
Division of DataCity, Inc.
78 Canterbury Drive
Stafford, Virginia 22554
Phone: 540-659-6209
Click Here and Return to The Pirate's Lair Home Page www.thepirateslair.com
"Service Disabled Veteran Owned Small Business"
Or
Email the-pirate@thepirateslair.com



Or Click HERE to return to The Pirate's Lair Home Page and Gangplank!


Copyright(c) 2008 All Rights Reserved - Unauthorized downloading, copying or use of any html code, text or images found on this or on any other pages within the www.pirateslair.com website will be prosecuted.

Music Credits: Donald Where's Your Trousers/Drunken Sailor medley by The Bards