John 5:24

"Home is the Sailor, Home From The Sea.... And The Hunter, Home From The Hill"

Permission Granted To Come Aboard...
..And Welcome To The Pirate's Lair!
a Division of DataCity, Inc.
Click Here and Return to The Pirate's Lair Home Page www.thepirateslair.com
or
Click Here and Return to Antique Naval China and Dinnerware

Antique US Navy Porcelain Soap Dishes marked USN and Original Mounting Wall Brackets Used Aboard a Ship's Officers Berth or Washroom (or Head) from the 1880's thru the Very Early 1900's - The Spanish American War and Great White Fleet era.
We have available for sale a number of these authentic US Navy soap dishes made by Standard, American Standard and The Trenton Potteries Company. The matching US Navy Wash Basin and Personal Water Tumblers Shown are not for sale.
NOTE: There wer 2 types of shipboard soap dish wall mounts. The first that gripped the soap dish front and back and the second with legs. Both prevented the soap dish from falling out during rough or heavy seas, but also lent itself to being easily removed for cleaning. We have both types at $225.SOLD!.
NOTE: The above combination soap dish and water tumbler wall mount bracket is period authentic but may not have been used aboard ship. This antique wall bracket came with a shipment of US Navy sinks or basins, water tumblers, soap dishes and wall brakets. The combination water tumbler and soap dish wall mount is $150.SOLD!.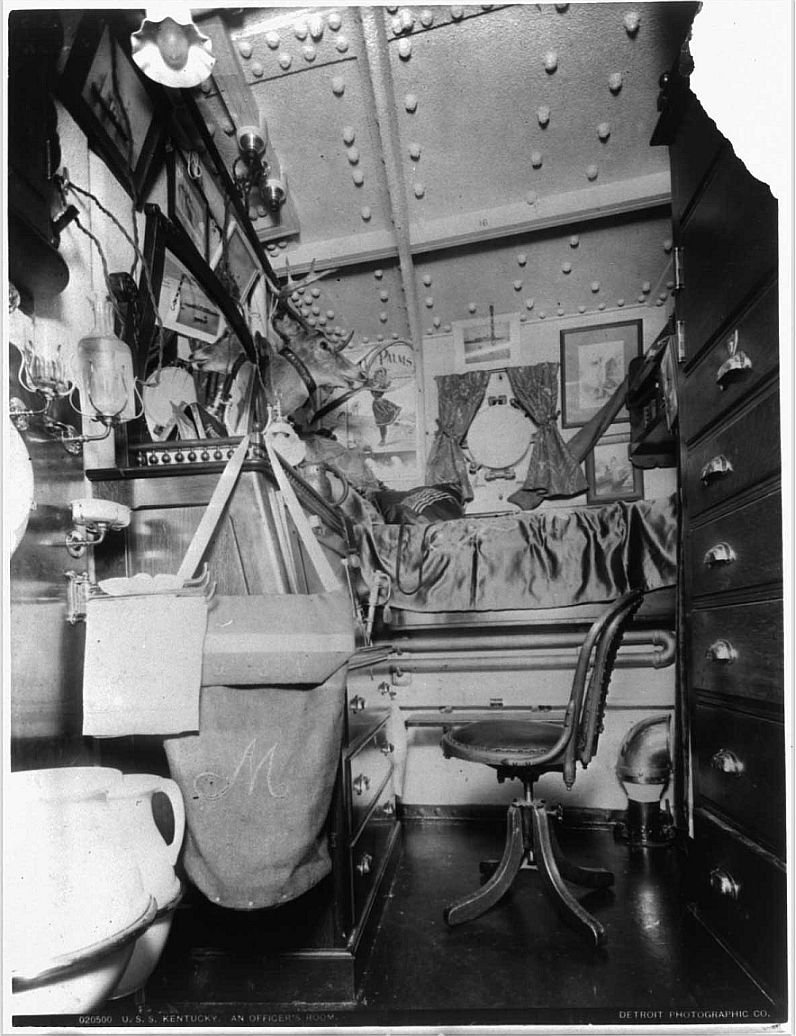 Note the soap dish and mounting bracket on the wall to the left in the photo, above the hand towel rack, water pitchers and slop jar.
RARE!!! 1880's to early 1900's - Original US Navy Porcelain Soap Dish and Wall Brackets - Both Sold Separately!
Used Aboard Ship in Officers Berthing or Stateroom area - SEE PERIOD PHOTOs. Produced by Standard, Trenton Potteries Company, and American Standard all early manufacturers of personal hygiene items. American Standard is still in business today.

CLICK PHOTO! US Navy Porcelain Hygieneware Soap Dishes and Wall Mount Brackets
Good to Excellent Condition with the initials USN clearly visible below the glaze. Part of a Personal Hygiene Set of porcelain
$125. to $225. Soap Dish Only

$225.SOLD!Original Shipboard Wall Mount Bracket

$150.SOLD! Period Tumbler/Soap Dish Wall Mount Bracket
Call To Order
540 659 6209


U.S. Navy Officer and Enlisted Soap Dishes were used as personal hygiene items in a ship's head or washroom. These soap dishes were clipped into chrome plated or nickel metal wall mount brackets for easy removal and cleaning. These were used from the mid to late 19th century and possibly even up to WWI; certainly during the 1880's thru 1910 during the Spanish American War and Great White Fleet era.



Below are links to other Antique Nautical and Naval Artifacts which you may be interested in.

Click HERE for US Navy "Fouled Anchor China" made for the Wardroom Officers Mess ca 1940-1960 - Affordable For Everyday Use!

Click HERE for US Navy Silverplated Silverware in the Kings Design with "Fouled Anchor" made for the Wardroom Officers Mess ca 1905-1960 - Matching silverware to the navy anchor china!

Click HERE to Review how this and other of our Pirate Chests, Treasure Chests, and Antique Chests were Restored, our Antique Restoration Process, and How To Restore Antique Nautical Furniture!


OPTIONAL - Trunk Wood Engraving Examples and Prices
Custom Designed, Handcrafted, and Hand Lettered in Caligraphy on your Antique Chest


Click Here To Review Sample Engravings

Personalize Your 100+ Year Old Antique Trunk in Perpetuity!

Antique Trunks as a Shadow Box and Storage Chest!
Customer Photographic Examples of our Antique Trunks Being used as a Military or Naval Retirement Shadow Box and Storage Chest!!


Click Here for Sample Shadow Box Photographs From Customers

Why just get a shadow box or a newly made trunk with no history! One of our 100+ Year Old Nautical Antique Trunks can be used for both a Shadow Box and Storage Chest for your Uniforms, Photograph Albums, and Memorabilia!
The Pirate's Lair
Division of DataCity, Inc.
78 Canterbury Drive
Stafford, Virginia 22554
Phone: 540-659-6209
Click Here and Return to The Pirate's Lair Home Page www.thepirateslair.com
"Service Disabled Veteran Owned Small Business"
Or
Email the-pirate@thepirateslair.com



Or Click HERE to return to The Pirate's Lair Home Page and Gangplank!


Copyright(c) 2008 All Rights Reserved - Unauthorized downloading, copying or use of any html code, text or images found on this or on any other pages within the www.pirateslair.com website will be prosecuted.

Music Credits: Donald Where's Your Trousers/Drunken Sailor medley by The Bards