John 5:24

"Home is the Sailor, Home From The Sea.... And The Hunter, Home From The Hill"

Permission Granted To Come Aboard...
..And Welcome To The Pirate's Lair!
a Division of DataCity, Inc.
Click Here and Return to The Pirate's Lair Home Page www.thepirateslair.com OR
Click Here For British Royal Navy Dinnerware Tableware Main Page OR
Click Here For Navy Rum Cups, Mess Pails and Mess Buckets, Wooden Water Kegs and Grog Casks

RARE! Handmade British Royal Navy Imperial Rum (BRNIR) Porcelain Demijohn, 1 Imperial Gallon or 4.54 Liter Capacity with Two Handled Protective Weaved Wicker, ca 1900s to 1940s Used During WWI and WWII - Museum Quality Condition. - Demijohn #1

There may be British Government and/or Manufacturer Markings on the porcelain jar itself but if any they are being covered up by the protective weaved wicker covering.
Call The Pirate's Lair @ 540-659-6209



Above is a very rare 1 Imperial Gallon Demijohn which British Royal Navy Imperial Rum was a 108.6-proof blend encased in hand weaved double handle protective wicker .
Rare photo to the left shows grog being dispensed aboard an unknown Royal Navy ship, but note the rum/grog mixing tub and the two demijohns in wicker! Photo to the right shows a small example of the collection of British Royal Navy Imperial Rum demijohns, copper rum cups, copper lipped measures, rum fannies or mess pails.

Top and bottom photographs - wicker is in absolute perfect museum quality condition - a MUST for any true collector of British Navy Rum paraphernalia.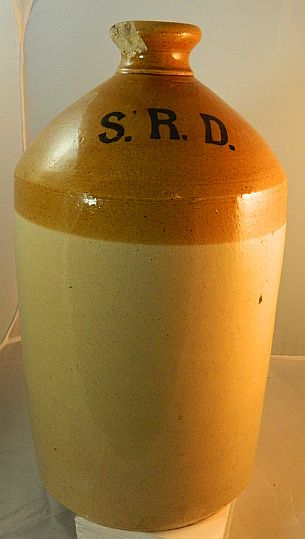 Photos to the left and above illustrate a demijohn with its wicker removed showing the initials S.R.D. (Supply Reserve Depot) and another photo showing British Infantry during WWII pouring out rum from a demijohn without wicker and the initials S.R.D. clearly showing.

The British had a centuries-long tradition of serving rum on board Royal Navy ships. First served to English sailors in Jamaica in 1655, this unique spirit, created for use by His Majesty's armed forces, was a mainstay of British naval life for over 300 years. Over the years, the consumption of rum in the Royal Navy evolved, but remained an important part of the sailor's experience.

By the early 1900s, the ration had been reduced to one-eighth of a pint, and the emphasis was on quality not quantity. The daily ritual: at six bells, the boatswain's whistle signaled "Up Spirits" and the crew assembled for their daily "tot" (as the ration was called). The rum was poured into a special bowl inscribed to the King and tots were dispensed with great ceremony.

The daily ration was suspended on July 31, 1970 - known as Black Tot Day - which was observed with solemnity and sadness as the end of a cherished era. Until recently, the final stores of this special rum have been reserved for important naval and Royal functions. It was last served by the Crown at Prince Andrew's wedding.
British Royal Navy Imperial Rum Large Porcelain Rum Demijohn Encased in Protective Wicker. #1
Museum Quality Condition. Handcrafted. These wicker-protected porcelain or ceramic demijohns were used store British Royal Navy Rum (108.6-proof) from the very early 1900s thru the 1960s. This particular demijohn is ca WWI-WWII and later since the wicker strips used during this period is a bit thinner than that found on early demijohns. The rum was mixed with water and lime juice to create what is known as "Navy Grog" and served daily to the enlisted ratings.

Click Photo!

13-1/2" high X 8.5" wide, 1 Imperial Gallon, or 4.54 Liter Capacity

$275.
Sold!

Call To Order 540 659 6209


Below are links to other Antique Nautical and Naval Artifacts that may be of interest:

Click HERE for WWII US Navy Anchor China


Authentic 100+ Year Old Nautical Antique Trunks
The Real Deal! Fully Restored Antique Trunks Like Sea Chests, Pirate Chests, Treasure Chests - Perfect as a Naval Retirement Gift, use as a Shadowbox and to store Uniforms and Service Memorabilia!


Click Here To Review Sample Engravings

The Largest Selection of Antique Trunks on the Net to Choose From!

OPTIONAL - Trunk Wood Engraving Examples and Prices
Custom Designed, Handcrafted, and Hand Lettered in Caligraphy on your Antique Chest


Click Here To Review Sample Engravings

Personalize Your 100+ Year Old Antique Trunk in Perpetuity!

Antique Trunks as a Shadow Box and Storage Chest!
Customer Photographic Examples of our Antique Trunks Being used as a Military or Naval Retirement Shadow Box and Storage Chest!!


Click Here for Sample Shadow Box Photographs From Customers

Why just get a shadow box or a newly made trunk with no history! One of our 100+ Year Old Nautical Antique Trunks can be used for both a Shadow Box and Storage Chest for your Uniforms, Photograph Albums, and Memorabilia!
The Pirate's Lair
Division of DataCity, Inc.
78 Canterbury Drive
Stafford, Virginia 22554
Phone: 540-659-6209


Click Here and Return to The Pirate's Lair Home Page www.thepirateslair.com
"Service Disabled Veteran Owned Small Business"
Or
Email the-pirate@thepirateslair.com



Or Click HERE to return to The Pirate's Lair Home Page and Gangplank!


Copyright(c) 2008 All Rights Reserved - Unauthorized downloading, copying or use of any html code, text or images found on this or on any other pages within the www.pirateslair.com website will be prosecuted.

Music Credits: Donald Where's Your Trousers/Drunken Sailor medley by The Bards