John 5:24

"Home is the Sailor, Home From The Sea.... And The Hunter, Home From The Hill"

Permission Granted To Come Aboard...
..And Welcome To The Pirate's Lair!
a Division of DataCity, Inc.
Click Here and Return to The Pirate's Lair Home Page www.thepirateslair.com OR
Click Here For British Royal Navy Dinnerware Tableware Main Page OR
Click Here For Navy Rum Cups, Mess Pails and Mess Buckets, Wooden Water Kegs and Grog Casks

1/2 Gill or Half Gill British Royal Navy Rum Cup or Grog Copper Measure as the British Call It. Queen Victoria Cipher Crown over VR6 with an Additional Stamped Letter "D" of Unknown Meaning. Mid to late 19th Century (1837-1900) - Broad Arrow Government Property In Service Marked, Remnants of "1/2 gill " - All Copper, Riveted Handle, Inside Tinned.

In addition to the stamped markings the authenticity shows in the British Government Approved construction and Royal Navy specifications of this Half Gill Rum or Grog Measure is seen by the folded over copper handle "squarishly" dovetailed at the inside rear seam and then rivited to the body of the cup. The Royal Cipher Markings of Crown over VR6, the Broad Arrow and 1/2 Gil are all clear. This rum cup was last polished about a decade or more ago and has developed a beautiful mahogany patina.
Call The Pirate's Lair @ 540-659-6209

There are seven (possibly eight) measures in a set: from 1 Gallon, 1/2 Gallon, 1 Quart, 1 Pint, 1/2 Pint, 1.5 Gill, 1 Gill and 1/2 or Half Gill . A Rum Bosun from each mess would come to collect the grog ration for his mess - each man entitled to 1 and 1/2 gill s of grog. A pint measure holds 8 x 1/2 gill s, and obviously a 1/2 gill measure is a half gill

If the Rum Bosun's mess contained 6 individuals that were entitled to 'draw the tot', then that is 6 x 1 and 1/2 gills of grog, equalling 9 half gill s of grog. The Rum Bosun would then receive a 1 pint measure and 1/2 gill measure which would be dipped into the 'grog tub' and then poured into his "rum fanny" to be brought back and served to his mess mates.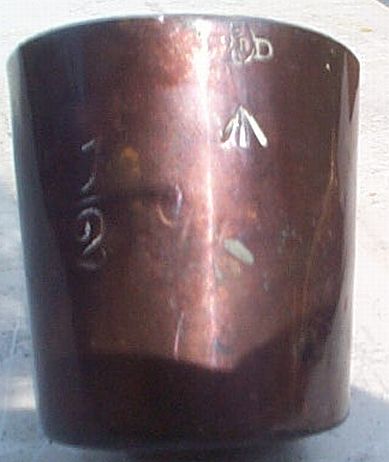 Above shows the British Royal Navy 1/2 gill Grog or Rum Measure. Note the Broad Arrow indicating British Government In Service Property and the faint stamp markings of "1/2 gill " Mid/Late 19th century Victorian era provenance.
Above photos show the 1/2 gill Grog Measure along with the larger 1 Pint and 1 Quart measures for comparison.
Authentic 19th Century British Royal Navy Victorian Era 1/2 Gill Rum Cup or Grog Measure
This 1/2 gill Grog Measure is manufactured to Royal Navy specifications, tinned on the inside, handles riveted to the body, Queen Victoria Royal Cipher marked with a "Crown over VR6", a "Broad Arrow" stamp indicating Government In Service Property, the letter "D" stamped near the cipher, and stamped "1/2 Gil".


Click Photo!

Half gill or 1/2 gill Measure

$325.
Sold!

Call 540 659 6209
To Purchase


Below are links to other Antique Nautical and Naval Artifacts that may be of interest:

Because of heritage and lineage the US Navy imitated and mirror imaged much of both equipment and traditions as found in the British Royal Navy. As such the American Navy also had "Measures" in blue speckled graniteware but only five, from the largest 1 Gallon to 1 gill unit measure. The US Navy equivalent "Measures" can be found by By Clicking Here - US Navy Measures.

Click HERE for WWII US Navy Anchor China


Authentic 100+ Year Old Nautical Antique Trunks
The Real Deal! Fully Restored Antique Trunks Like Sea Chests, Pirate Chests, Treasure Chests - Perfect as a Naval Retirement Gift, use as a Shadowbox and to store Uniforms and Service Memorabilia!


Click Here To Review Sample Engravings

The Largest Selection of Antique Trunks on the Net to Choose From!

OPTIONAL - Trunk Wood Engraving Examples and Prices
Custom Designed, Handcrafted, and Hand Lettered in Caligraphy on your Antique Chest


Click Here To Review Sample Engravings

Personalize Your 100+ Year Old Antique Trunk in Perpetuity!

Antique Trunks as a Shadow Box and Storage Chest!
Customer Photographic Examples of our Antique Trunks Being used as a Military or Naval Retirement Shadow Box and Storage Chest!!


Click Here for Sample Shadow Box Photographs From Customers

Why just get a shadow box or a newly made trunk with no history! One of our 100+ Year Old Nautical Antique Trunks can be used for both a Shadow Box and Storage Chest for your Uniforms, Photograph Albums, and Memorabilia!
The Pirate's Lair
Division of DataCity, Inc.
78 Canterbury Drive
Stafford, Virginia 22554
Phone: 540-659-6209


Click Here and Return to The Pirate's Lair Home Page www.thepirateslair.com
"Service Disabled Veteran Owned Small Business"
Or
Email the-pirate@thepirateslair.com



Or Click HERE to return to The Pirate's Lair Home Page and Gangplank!


Copyright(c) 2008 All Rights Reserved - Unauthorized downloading, copying or use of any html code, text or images found on this or on any other pages within the www.pirateslair.com website will be prosecuted.

Music Credits: Donald Where's Your Trousers/Drunken Sailor medley by The Bards