John 5:24

"Home is the Sailor, Home From The Sea.... And The Hunter, Home From The Hill"

Permission Granted To Come Aboard...
..And Welcome To The Pirate's Lair!
a Division of DataCity, Inc.


Click Here and Return to The Pirate's Lair Home Page www.thepirateslair.com
OR
Click Here and Return to the Naval Cutlass Main Page

British Royal Navy or Colonial American Navy Cutlass with Figure 8 or Double Disk Iron Guard, Bone Grip, Curved Double Fullered falchion Blade - Photographic Documentation and Historical Analysis ca 1730-1770s
This naval cutlass is referenced and identified in both "Boarders Away" By Gilkerson and "The American Sword 1775-1945" by Peterson.

It is unclear whether this was a British-made naval cutlass by "Hollier" or copied and manufactured by a cutler in Colonial America ca 1750. This pattern of naval cutlass first produced by Hollier for the British Navy in the very early 1700s but it was well copied by American Colonial blacksmiths and cutlers beginning in the 1750s at the outbreak of the French and Indian War. We tend to think it is American made due to the cruder workmanship of the figure 8 guard as exemplified by colonial sword production. The blade may perhaps be of British origin but the iron guard certainly appears to be of American production. This naval cutlass was definitely made and used in the French-Indian War and American Revolutionary War era.

Overall length is 32.5" Length of blade is 26.5" with the width being 1.5" at the thickest point.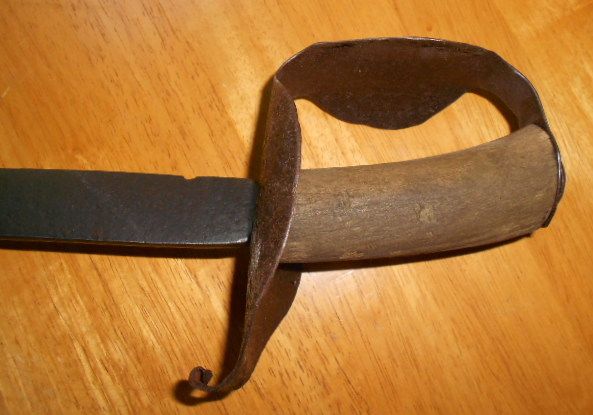 Custom Wooden Wall Brackets for the Naval Cutlass
Elegant in Their Simplicity! Custom Crafted Wooden Wall Brackets Specifically for a Cutlass Display or Sword Display for a Secure, Beautiful and Professional Presentation.

These Handcrafted Wooden Wall Brackets or Wall Mounts Are Made for the Wide and Large Hilts Normally Found on Cutlasses and Some Swords and Prevent the Hilt or Cup From Touching the Wall. The TPL Wall Brackets Come Complete with 2 Brackets and 2 Mounting Screws, and are Available in 3 Sizes with a Choice of Oak or Walnut Woods!


Click Photo

$35. Pair

2.25" 2.75" 3.75"

specify length and either Oak or Walnut when calling.

Call To Purchase
540 659 6209
Below are links to other Antique Nautical and Naval Artifacts that may be of interest:

Click Here For Antique Navigation Lights

Click HERE for WWII US Navy Anchor China


Authentic 100+ Year Old Nautical Antique Trunks
The Real Deal! Fully Restored Antique Trunks Like Sea Chests, Pirate Chests, Treasure Chests!


Click Here To Review Sample Engravings

The Largest Selection of Antique Trunks on the Net to Choose From!

OPTIONAL - Trunk Wood Engraving Examples and Prices
Custom Designed, Handcrafted, and Hand Lettered in Caligraphy on your Antique Chest


Click Here To Review Sample Engravings

Personalize Your 100+ Year Old Antique Trunk in Perpetuity!

Antique Trunks as a Shadow Box and Storage Chest!
Customer Photographic Examples of our Antique Trunks Being used as a Military or Naval Retirement Shadow Box and Storage Chest!!


Click Here for Sample Shadow Box Photographs From Customers

Why just get a shadow box or a newly made trunk with no history! One of our 100+ Year Old Nautical Antique Trunks can be used for both a Shadow Box and Storage Chest for your Uniforms, Photograph Albums, and Memorabilia!
The Pirate's Lair
Division of DataCity, Inc.
78 Canterbury Drive
Stafford, Virginia 22554
Phone: 540-659-6209


Click Here and Return to The Pirate's Lair Home Page www.thepirateslair.com
"Service Disabled Veteran Owned Small Business"
Or
Email the-pirate@thepirateslair.com



Or Click HERE to return to The Pirate's Lair Home Page and Gangplank!


Copyright(c) 2008 All Rights Reserved - Unauthorized downloading, copying or use of any html code, text or images found on this or on any other pages within the www.pirateslair.com website will be prosecuted.

Music Credits: Donald Where's Your Trousers/Drunken Sailor medley by The Bards
ANY TEXT BELOW THIS LINE IS SOLEY FOR THE BENEFIT OF SEARCH BOTS, SPYDERS AND OTHER DENIZENS OF THE DEEP DARK SEA INTERNET

The naval cutlass was also sometimes known as a navy sword or naval short sword as the blade was sometimes significantly shorter than some of the 30" plus blades found on infantry and calvary swords.

moreover the sweeping blade of the cutlass was called in french the "falchion" which distiguishes it from the straigher sword blades.