John 5:24

"Home is the Sailor, Home From The Sea.... And The Hunter, Home From The Hill"

Permission Granted To Come Aboard...
..And Welcome To The Pirate's Lair!
a Division of DataCity, Inc.
Click Here and Return to The Pirate's Lair Home Page www.thepirateslair.com
or
Click Here and Return to 100+ Year Old Authentic Antique Trunks Page

HUGE Fully Restored (1880s-1890s) Ruggedly Handsome Antique Roll-Top Steamer Trunk Trunk Originally Manufactured by "H.W.Rountree & Bros, Richmond Virginia"! This Trunk Comes with its Original Patented (1879) Liftout Tray Which Both Folds up and Slides Back Allowing for Easy Retrieval of Needed Items While Travelling. Leather Tabs In Great Working Condition. Uniquely Designed Working Lock AND Key!! Trunk # 314
The interior and original lift out tray was covered in a paper covering which was removed, inside scrubbed with a cleaning solution, dried and then gently hand sanded to reveal the fantastic pine wood grain that only 100+ years of curing can achieve. Remnants of the original covering was sealed and left on cardboard door of the liftout tray along with the Victorian Lithograph!

Click Here to Learn More About Rountree & Bros Co. the manufacturer of this 19th century trunk!

CAll TO ORDER 540 659 6209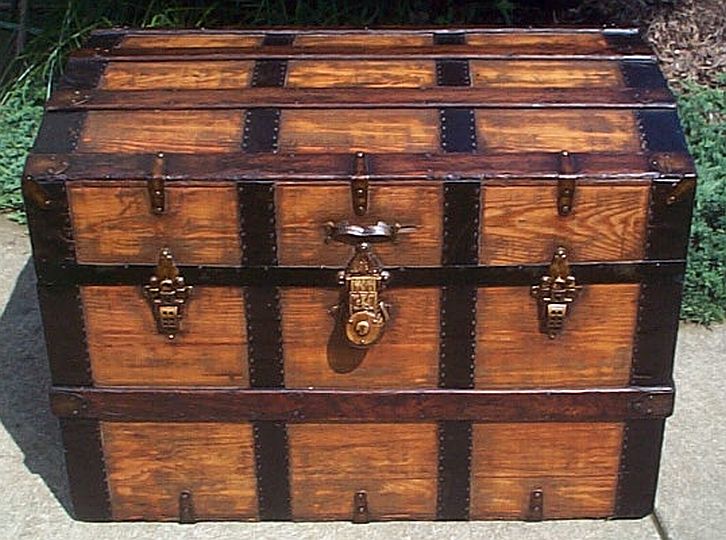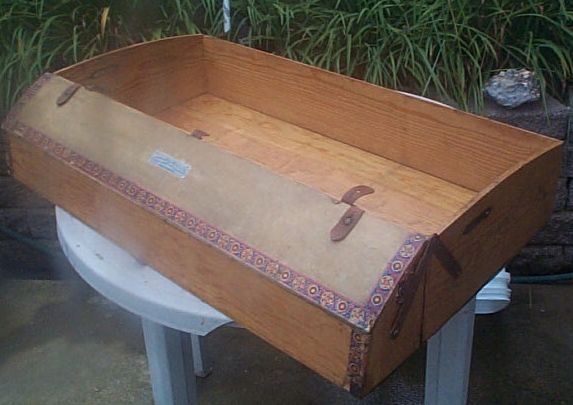 This liftout tray with rollers found on this "Rountree & Bros" trunk (founded in 1875 in Richmond, VA) is so unique that they were given a patent on it in 1879.
Note that this patented liftout tray was constructed in two parts with the front part having the ability to be lifted up and out of the way so that a traveller could easily find and retrieve items stored inside the trunk! This smaller front compartment also had a door to store small articles such as gloves, documents, stationary, pens, etc etc needed on a daily basis.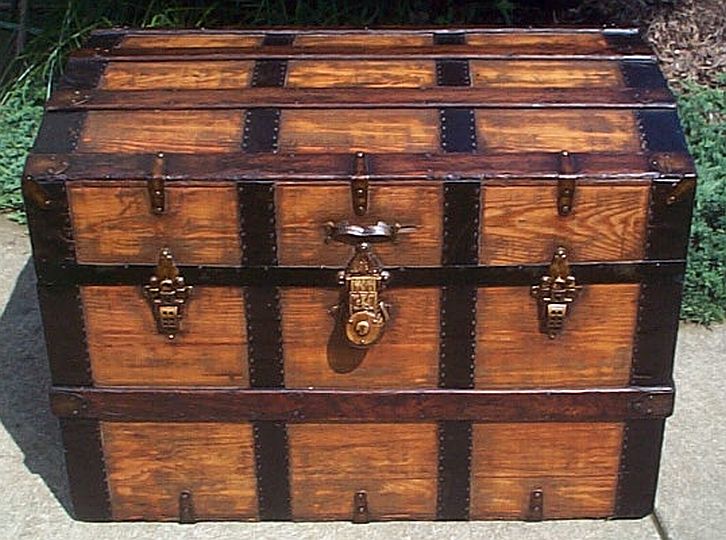 Huge Roll Top Antique Trunk - #314
Perfect as a ShadowBox to Store and Display Military Awards, Medals, and Uniforms! A Very Large and Substantial Ruggedly Handsome Antique Trunk Originally Manufactured by H.W.Rountree & Bros of Richmond, Va! Included is the original and MOST unique full sized and patented liftout tray we have had the good fortune of restoring. It has a lift up lidded portion to easily access small traveling items as well as the ability to slide back so as to easily retrieve larger items stored beneath the tray.

Working Lock and Key!


Click Photo!

Huge Roll Top Antique Trunk: 36"L x 22"D x 26"H
This will hold lots of items. A beautiful and intricately designed front lock along with the cured 100 year old pine and oak wood provide lots of character to this trunk.

$895.
Sold!

Call To Order
540 659 6209
Click HERE to Review how this and other of our Pirate Chests, Treasure Chests, and Antique Chests were Restored, our Antique Restoration Process, and How To Restore Antique Nautical Furniture!
OPTIONAL - Trunk Wood Engraving Examples and Prices
Custom Designed, Handcrafted, and Hand Lettered in Caligraphy on your Antique Chest


Click Here To Review Sample Engravings

Personalize Your 100+ Year Old Antique Trunk in Perpetuity!

Antique Trunks as a Shadow Box and Storage Chest!
Customer Photographic Examples of our Antique Trunks Being used as a Military or Naval Retirement Shadow Box and Storage Chest!!


Click Here for Sample Shadow Box Photographs From Customers

Why just get a shadow box or a newly made trunk with no history! One of our 100+ Year Old Nautical Antique Trunks can be used for both a Shadow Box and Storage Chest for your Uniforms, Photograph Albums, and Memorabilia!
Rare 1880 to Early 1890's Photograph of Antique Trunk Factory and Workers Using Albumen Silver Print Method, Mounted to a Period Board Which Dates The Photo
Note the Flatop and Two Monitor or Waterfall Trunks, Each Being Individually Unique at the Very Time of Production.


Click Photo For Larger View and More Historical Information!

The Pirate's Lair Exclusive!
We all romanticize about the mystique of these antique trunks. The possible owners and travels that each steamer trunk has taken, along with the high level of detailed craftsmanship in the original production of each and every steamer trunk with that individualized character giving both intrinsic and non-intrinsic value.

However the truth of the matter is that the majority of these trunks were made towards the middle to end of the 19th century just at the dawning of the industrial revolution here in America when there were no child labor laws or protections. This rare photo clearly illustrates at least 3 generations of owners and workers, ages appearing to range from pre-teen/adolescent, teens/early adult, through middle to old age!
It was a common practice that loyal and productive craftsmen would be allowed to bring their children to work with them to learn a craft, so many of the children in this photograph were more than likely sons of the men shown.

Note the adolescent factory workers on top row! Note that there are no women in the photo! This is due to the fact that at that time "proper" women did not work outside of the home, certainly not in a factory. Everybody appears to look pretty stern, having on their arms crossed and "work" faces put on.
Copy of Photo On Request With Every Trunk Purchase
The Pirate's Lair
Division of DataCity, Inc.
78 Canterbury Drive
Stafford, Virginia 22554
Phone: 540-659-6209
Click Here and Return to The Pirate's Lair Home Page www.thepirateslair.com
"Service Disabled Veteran Owned Small Business"
Or
Email the-pirate@thepirateslair.com



Or Click HERE to return to The Pirate's Lair Home Page and Gangplank!


Copyright(c) 2008 All Rights Reserved - Unauthorized downloading, copying or use of any html code, text or images found on this or on any other pages within the www.pirateslair.com website will be prosecuted.

Music Credits: Donald Where's Your Trousers/Drunken Sailor medley by The Bards


The following Text is soley for the consumption of Spiders, Bots and other Dark Denizens of the Internet: All nautical sea chests, or a domed sea chest also known as a camel back.
Antique Chest for sale
Antique Trunks and Sea Antique Chest with a Shadow Box or a Shadowbox make the perfect naval retirement gift or navy or naval promotion gift for enlisted or officer.

Store your uniforms, flags, other naval militaria and mementos or used in a family heirloom treasures.
Beautiful Nautical Dome Top or Humpback Antique Sea chest for a retirement ceremony or military promotion gift.