John 5:24

"Home is the Sailor, Home From The Sea.... And The Hunter, Home From The Hill"

Permission Granted To Come Aboard...
..And Welcome To The Pirate's Lair!
a Division of DataCity, Inc.
Click Here and Return to The Pirate's Lair Home Page www.thepirateslair.com
OR
Click Here - Return to Navy Enlisted Mess Dinnerware and Tableware Main Page

SpanAm Spanish American War era (1890s - 1900s) US Navy Two Handled, Wood Handle, Brass Bale and Hardware, Copper over Tin, Copper Rivets, HUGE 9 Quart Capacity - Antique Navy Coffee Pot in Museum Quality As Shown in Period Photographs!!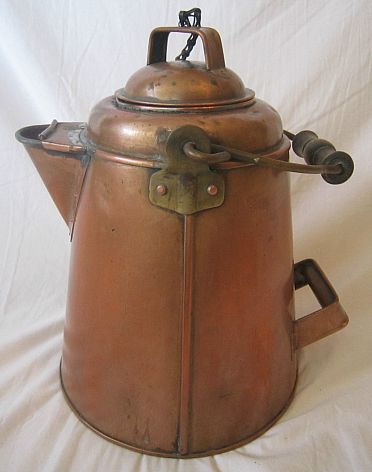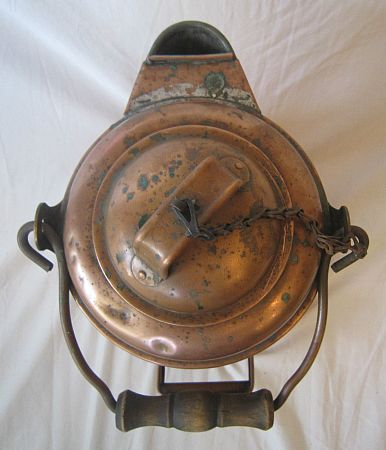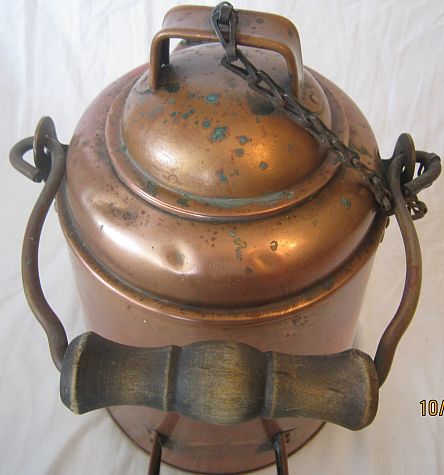 Above is a period and personal photograph obtained from a private estate collection from the family of the officer shown in the right. However this photograph is extremely important as it is one of the few showing mess cooks preparing whole sides of beef in the cooks galley as well as the stove and all of the cooking utensils used.

Note the coffee pot and large ladles.
RARE US Navy Enlisted 1890s-1900s SpanAm War Copper, Tin and Brass 9 Quart Coffee Pot
A Fantastic well-preserved coffee pot made of copper over tin, wood handle, brass bale and attaching hardware. Period photos showing this exact type of coffee pot being used aboard ship during the 1890s and very early 1900s (click photo)

Click Photo!
SpanAm Spanish-American War US Navy 9 Quart Brass and Copper Coffee Pot w/ Lid -See Period Photos!!!
$195.

Click Here To Order


Below are links to other Antique Nautical and Naval Artifacts which you may be interested in.

Click HERE for US Navy "Fouled Anchor China" made for the Wardroom Officers Mess ca 1940-1960 - Affordable For Everyday Use!

Click HERE for US Navy Silverplated Silverware in the Kings Design with "Fouled Anchor" made for the Wardroom Officers Mess ca 1905-1960 - Matching silverware to the navy anchor china!

Click HERE to Review how this and other of our Pirate Chests, Treasure Chests, and Antique Chests were Restored, our Antique Restoration Process, and How To Restore Antique Nautical Furniture!


OPTIONAL - Trunk Wood Engraving Examples and Prices
Custom Designed, Handcrafted, and Hand Lettered in Caligraphy on your Antique Chest


Click Here To Review Sample Engravings

Personalize Your 100+ Year Old Antique Trunk in Perpetuity!

Antique Trunks as a Shadow Box and Storage Chest!
Customer Photographic Examples of our Antique Trunks Being used as a Military or Naval Retirement Shadow Box and Storage Chest!!


Click Here for Sample Shadow Box Photographs From Customers

Why just get a shadow box or a newly made trunk with no history! One of our 100+ Year Old Nautical Antique Trunks can be used for both a Shadow Box and Storage Chest for your Uniforms, Photograph Albums, and Memorabilia!
The Pirate's Lair
Division of DataCity, Inc.
78 Canterbury Drive
Stafford, Virginia 22554
Phone: 540-659-6209
Click Here and Return to The Pirate's Lair Home Page www.thepirateslair.com
"Service Disabled Veteran Owned Small Business"
Or
Email the-pirate@thepirateslair.com



Or Click HERE to return to The Pirate's Lair Home Page and Gangplank!


Copyright(c) 2008 All Rights Reserved - Unauthorized downloading, copying or use of any html code, text or images found on this or on any other pages within the www.pirateslair.com website will be prosecuted.

Music Credits: Donald Where's Your Trousers/Drunken Sailor medley by The Bards