ONLY AUTHENTIC US NAVY DINNERWARE AND MESSWARE HERE AT THE PIRATE'S LAIR!! 1900's - 1950's US Navy Enlisted White China Handless Watchstanding and Mess Hall Breakfast, Lunch and Dinner Mug
very BIG and Heavy, little over 1 lb! Matching Large White Bowl Also Available. These are made of real china and not the cheap milk glass mugs used found towards the end of WWII.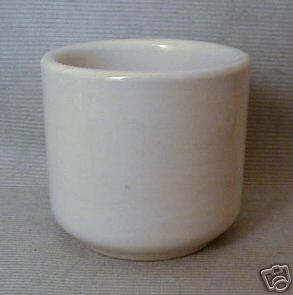 CLICK PHOTO FOR REAL AUTHENTIC WATCHSTANDING MUGS!!
Standard Great White Fleet, WWI, WWII and Korea: Enlisted White China Handless Mug used for all Meals, Watchstanding Duty, Great Shaving Cup. Used almost exclusively on US Navy WWI and WWII Submarines.
$99.
Call To Order
540 659 6209