John 5:24

"Home is the Sailor, Home From The Sea.... And The Hunter, Home From The Hill"

Permission Granted To Come Aboard...
..And Welcome To The Pirate's Lair!
a Division of DataCity, Inc.


Click Here and Return to The Pirate's Lair Home Page www.thepirateslair.com
OR
Click Here and Return to the Naval Cutlass Main Page
OR
Click Here and Return to the Naval Boarding Ax, Boarding Pike, Pole Ax Main Page

Authentic 18th Century Antique Scandinavian Naval Boarding Ax, Possibly Danish Navy or Swedish Navy Boarding Axe, but Definitely of Scandinavian Naval Origin
The Pirate's Lair @ 540-659-6209
Swedish or Danish Naval Boarding Ax #1
18th Century Naval Boarding Ax in Perfect Museum Quality Condition, Well Preserved - Classical wide flaring blade and curved spike. Has a hand-engraved cross on the haft and the number 101 on the bottom butt with no other markings. Slight nick on the blade from possible battle damage, some worm holes, no other damage. Long langets with three equally spaced non-thru securing screws on each side. Turned haft with slightly raised ridge design to prevent hand from slipping with a round butt.


Click Photo!

Length: 35" long
Head: 11" long
Blade: 5.25" wide
Spike: 4 5/8 long.

$2195.
Sold!

To Order Call
540 659 6209
Above photo is an excellent example of a beautifully preserved 18th century Swedish Naval Boarding Ax or Danish Boarding Ax. This particular boarding ax has a cross engraved onto the haft and the number 101 engraved on the bottom butt which is believed to be an armament rack number or position aboard a naval vessel. It has been established that it was the Scandinavians, or more precisely the Vikings, who first employed boarding axes as standard inventory. This particular boarding ax is 35" long with an 11" head from tip of blade to tip of curved spike. Note the flaring and curved ax blade which is typical and distinctive of the Scandinavian and French boarding ax.

The naval boarding ax was the most indispensable and versatile weapon used aboard a naval vessel prior to the advent of propeller-driven steel-hulled ships of the late 19th century. During the era of wooden hulled naval vessels powered by wind and sail the boarding ax was a critical piece of equipment used by the enlisted deckhand throughout a naval engagement from beginning the beginning shots of canon fire to the end when capturing or vanquishing an opponent. Outside of the large bore canon and skilled seamanship of captain and crew the boarding ax was likely the most single most important weapon which would determine a ships survivability during battle.

Critical to a naval vessels survivability during an engagement would be to ensure that:
A) all "hot shot" was quickly removed and efficiently dug out from the hull, masts, or any wooden structure which it may have been imbedded preventing a catastrophic fire,
B) the rapid removal and discarding overboard of any downed rigging, ropes and masts which would prevent a vessel to properly navigate,
C) instrumental in allowing naval infantry or boarders to climb up the side of a wooden hull on an opposing vessel,
D) an effective weapon or sidearm used in close quarter combat either as a boarder or in repelling boarders.


Photo to the left illustrates a partial collection and representation of Scandinavian, European and British naval boarding axes from the 18th and 19th centuries. The Scandinavian and French boarding ax are very similar and distinctive with wide flaring blades and curved spikes, while the British boarding ax has a more traditional hatchet-type smaller blade and slightly straighter spike.

The 16th thru 19th centuries saw the culmination of the Naval Boarding Ax and Boarding Pike as vital defensive and offensive personal weapons as part of the inventory of a man-of-war. Both of which became obsolete by the beginning of the 20th century due to the advent of steel ships, small highly accurate personal multi-round firearms such as pistols and rifles, and of course highly accurate large-bore short and long-range naval artillery which would prevent close-quarter boarding.

From the Spanish American War onward there no longer came the need or even opportunity to board other vessels by climbing up the bulging wooden sides using the boarding ax, or the need to pick out "hot shot" rounds from wooden timbers and masts, or to drag and cut away ropes and sails taken down by canon fire, or to use the boarding ax to hack away or throw at an opponent.

Just as the enlisted naval cutlass was specially designed for close quarter combat by an ordinary seaman aboard a fighting vessel, as opposed to its landbased bretheren the sword; so was the naval boarding axe and naval boarding pike differentiated from its cousins the landbased military battle-axe and the halberd or pike.






Above are two examples of late 18th and early 19th century US Navy boarding axes which were very distinctive as to origin. The long bearded blade with large sharp cutout teeth were a completely American design to facilitate the gathering and dragging of fallen rope and sail.

In the day of wooden hulled and sail driven vessels there were typically no nails of any consequence used in the construction, so the teeth seen in these American-made naval boarding axes were not used to pull out nails. In fact the notches one sees in todays hatchets and axes which are used to pull out nails are a throwback to the original naval boarding ax.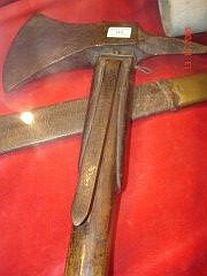 The above photos illustrate a French Model M1833 Hache de Bord or Hache Abordage naval boarding ax. Note the long fore and aft langets securing the axe to the shaft while there is an extra langet acting as a shield for the wood against a cutlass thrust. The design is very similar to the Swedish boarding ax.

Below are links to other Antique Nautical and Naval Artifacts that may be of interest:

Click Here For Antique Danish Naval China Dinnerware

Click HERE for WWII US Navy Anchor China


Authentic 100+ Year Old Nautical Antique Trunks
The Real Deal! Fully Restored Antique Trunks Like Sea Chests, Pirate Chests, Treasure Chests!


Click Here To Review Sample Engravings

The Largest Selection of Antique Trunks on the Net to Choose From!

OPTIONAL - Trunk Wood Engraving Examples and Prices
Custom Designed, Handcrafted, and Hand Lettered in Caligraphy on your Antique Chest


Click Here To Review Sample Engravings

Personalize Your 100+ Year Old Antique Trunk in Perpetuity!

Antique Trunks as a Shadow Box and Storage Chest!
Customer Photographic Examples of our Antique Trunks Being used as a Military or Naval Retirement Shadow Box and Storage Chest!!


Click Here for Sample Shadow Box Photographs From Customers

Why just get a shadow box or a newly made trunk with no history! One of our 100+ Year Old Nautical Antique Trunks can be used for both a Shadow Box and Storage Chest for your Uniforms, Photograph Albums, and Memorabilia!
The Pirate's Lair
Division of DataCity, Inc.
78 Canterbury Drive
Stafford, Virginia 22554
Phone: 540-659-6209

Click Here and Return to The Pirate's Lair Home Page www.thepirateslair.com
"Service Disabled Veteran Owned Small Business"
Or
Email the-pirate@thepirateslair.com



Or Click HERE to return to The Pirate's Lair Home Page and Gangplank!


Copyright(c) 2008 All Rights Reserved - Unauthorized downloading, copying or use of any html code, text or images found on this or on any other pages within the www.pirateslair.com website will be prosecuted.

Music Credits: Donald Where's Your Trousers/Drunken Sailor medley by The Bards
ANY TEXT BELOW THIS LINE IS SOLEY FOR THE BENEFIT OF SEARCH BOTS, SPYDERS AND OTHER DENIZENS OF THE DEEP DARK SEA INTERNET

The naval boarding ax was an indispensable part of a ships armament inventory for the deckhand.

One often sees pirates and sailors holding a cutlass in one hand with a boarding ax in another as they were used in conjunction with each other when boarding a naval vessel during a battle. The boarding as was used to clear ones own deck of debris including ropes and rigging which may have been shot away and fallen as well as digging hot shot out of wooden hulls, bridges, railings, decks, sails, etc etc.

The naval boarding ax as an offensive weapon was used to help a boarder climb up the side of an enemies wooden hull, then used to chop away at their rigging making it difficult or impossible for them to properly maneuver, and then to used as a personal weapon in close quarter combat. The boarding ax was also used to throw at an enemy to keep distance. In fact it has been said that a well thrown boarding ax was even more lethal than an early 19th century gun (both were equally only one shot!)